Printable Version of Topic
KONA OWNER FORUMS & SUPPORT _ !!Fun Stuff!! _ Hello Thread
Posted by: regalia Feb 24 2009, 11:58 PM
Hi all im new to the forums!
Been riding for a few years.
Excited to talk to you all!

Posted by: grii reapers sidekick Sep 14 2009, 03:23 PM
Just thought i'd say hi to you all on here , sorry if this is the wrong part of the forum , but i could'nt see anywhere else ! Got a caldera , cream colour , with quite a few parts added , raceface , echo , etc ! different ! but hey , it's what i want . I'll get a few piccies of it and post them up soon .

Posted by: tech Dec 22 2009, 04:28 PM
As the title read, put your I'm new posts in here.



Posted by: freehighlander Feb 18 2010, 07:43 PM

Nu to this also proud owner of coilair. Its soooo cold here in Ne Scotland

Posted by: tech Feb 18 2010, 10:56 PM
Welcome aboard, warmest winter in 120 years where I am!

Posted by: freehighlander Feb 22 2010, 01:05 PM
QUOTE (tech @ Feb 18 2010, 10:56 PM)
Welcome aboard, warmest winter in 120 years where I am!
Minus 11 this morning brrrrrrrrrrrrrrrrrrrr
Went up the woods this morning to try a wee hip jump on th ecoilair and really liked it. Oh hurry up spring
Posted by: stinky06 Feb 22 2010, 11:32 PM
hi to all stock 06 stinky for me...

Posted by: Crantinope Apr 1 2010, 11:39 AM
Hi,

Just thought I would say hello. I have an untouched all original 88 Explosif. Don't ride it much (for fear of wrecking a bit of history), hope you can understand that.
Also have an 88 Cinder Cone, nearly original apart from Stem/bars/tyres that i ride day to day

I still have the original Reactions (still with little knobbly bits on) and the Seatpost (a few zigzags) in my loft.


Enjoy

Cheers...Nick


Posted by: tillrides Apr 26 2010, 07:27 PM
Greetings from Las Vegas, NV. Long time fan, first time poster. Good to see other Dawg fans out there. Ride on, ride well.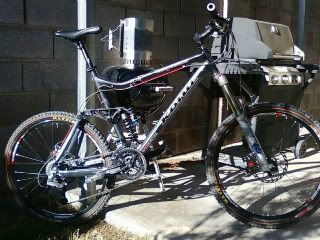 Posted by: Biggame James Jul 7 2010, 09:16 PM
Hello, new to the forum!

James
Posted by: fungus the muffin man Jan 12 2011, 02:34 PM
Hallo guys and girlies

Just got my first ever Kona and full susser. The Kona Cadabra.

Just waiting for a chance to get out now and get the magic link working and the whole bike dirty as hell!


Posted by: Mr.BaBo Jan 27 2011, 03:56 PM
Hello everyone!!!!

I just got myself a 2006 Kona Coiler and and loving it so far.

Lucas

Posted by: L. Cota Mar 28 2011, 01:22 PM
Hi all! It's a pleasure post this msg from Brasil. I´m from Belo Horizonte in Minas Gerais State and this is considered, here in Brazil, the paradise of mountains. Look the picture attached and see the happyness of my bike
Posted by: oldfisher May 24 2011, 07:52 AM
Hi guys.

Been a fan of Kona for years but only just bought my first one. A steel ht Blink. I haven't posted a pic as it hasn't arrived yet! Delivery due today!!! Yes, I am excited.
Posted by: Konarider719 Jun 1 2011, 04:18 PM
What up? New to forums. However, I'm finding them very useful.

Posted by: Rybes Jul 8 2011, 11:25 AM
Hello there.
my names rybes and ive just found this forum. ive got a 2004 cinder cone that i bought from new and its been to just as many countires as i have. currently its in Denmark via Canada and the UK. recently upgraded the forks to a set of reba sl's and still lovin every pedal turn of riding it.
see you all in the forums
Posted by: Ceej Jul 28 2011, 10:15 PM
Hello, I am new to the site but have been riding an old school Kona A'ha for years. I picked it up when I was working for Marzocchi Suspension back in the day. I remember working with the Kona guys up in canada doing tech seminars for there local dealers. I am working on putting the ol' girl back together and have been looking for a classic rigid fork for her.



Posted by: Kona-Jordan Aug 3 2011, 03:41 PM
Just wanted to introduce myself, I'm Jordan from Baltimore md. here are my rides, 2001 kona stinky... the never ending project. and my girls Kona blast ford edition... also have a 05 kona fire mountian I'm currently building into a rigid city bike, no pics yet. Also included a pic of kona tattoo...


Posted by: daves mate May 20 2012, 05:46 PM
Hey y'all, another noob here. New to this forum and to Kona but been riding for years.

Posted by: PRIMOSTINKY Sep 15 2012, 11:18 AM
[font="Comic Sans MS"][/font] hi every body i am new here and ride a kona stinky primo 2004 its an awesome bike i feel like im floating riding it over roots and rocks love my kona stinky primo !!!! <3
Posted by: gbuk Jun 18 2013, 01:46 PM
Hi Everyone,
I'm new here, so just wanted to say a quick hello.
I'm from a bike shop in the UK called Global Bike.
I'm looking forward to meeting some people on here and joining the conversations.

Posted by: wahyu taman bunga Oct 31 2013, 06:48 AM
Rides Caldera for fun and sport

Posted by: easy Jan 3 2014, 12:39 AM
Hello! I couldn't access my old account so I had to create a new one. Glad to be back though! From Canada.

Posted by: wahyu taman bunga Feb 13 2015, 05:49 PM
Hi guys

Nice to meet you all



Posted by: Pyrate Nomad May 14 2020, 11:47 PM
Hey, folks. Just exploring the forums here as a new Kona rider. It seems that I am the first to post in 5 years or so. Might as well clear out the cobwebs and get this thread moving again.
Posted by: TheGaHeretic Oct 17 2020, 08:22 PM
Newbie here with a blue kona coiler from the midwest